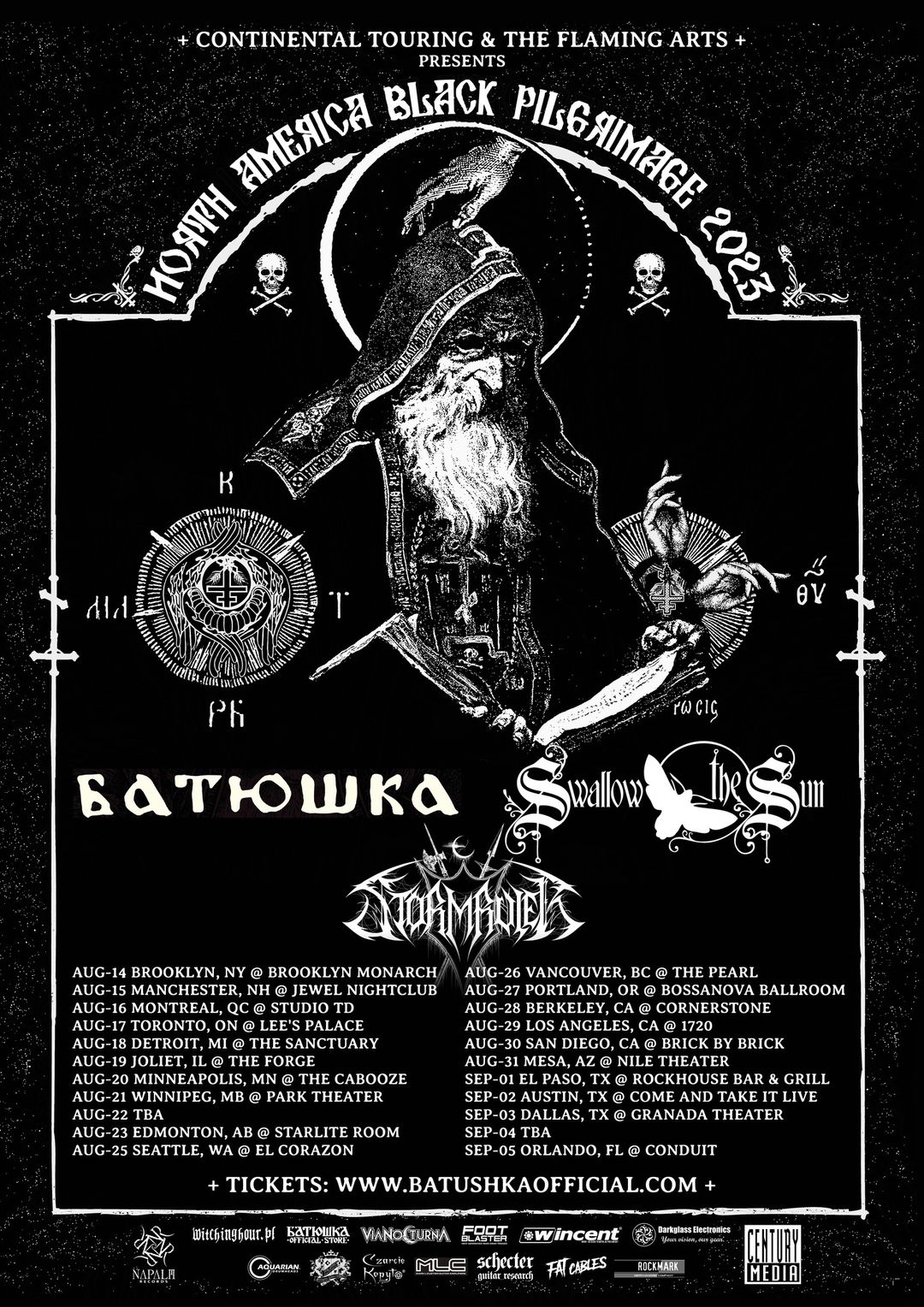 Yes! it's happening again! After last year's successful tour,
Batushka
is returning to the sacred lands of North America! Together with
Swallow the Sun
and
STORMRULER
, we will make a pilgrimage to celebrate the black liturgy in the lands of North America again. Prepare your souls for purification and prayer together!
NORTH AMERICA BLACK PILGRIMAGE 2023
powered by THE FLAMING ARTS AGENCY & Continental Touring
BATUSHKA
SWALLOW THE SUN
STORMRULER
+ supports
Aug-14 Brooklyn, NY @ Brooklyn Monarch
Aug-15 Manchester, NH @ Jewel Nightclub
Aug-16 Montreal, QC @ Studio TD
Aug-17 Toronto, ON @ Lee's Palace
Aug-18 Detroit, MI @ The Sanctuary
Aug-19 Joliet, IL @ The Forge
Aug-20 Minneapolis, MN @ The Cabooze
Aug-21 Winnipeg, MB @ Park Theater
Aug-22 TBA
Aug-23 Edmonton, AB @ Starlite Room
Aug-25 Seattle, WA @ El Corazon
Aug-26 Vancouver, BC @ The Pearl
Aug-27 Portland, OR @ Bossanova Ballroom
Aug-28 Berkeley, CA @ Cornerstone
Aug-29 Los Angeles, CA @ 1720
Aug-30 San Diego, CA @ Brick by Brick
Aug-31 Mesa, AZ @ Nile Theater
Sep-1 El Paso, TX @ Rockhouse Bar & Grill
Sep-2 Austin, TX @ Come and Take it Live
Sep-3 Dallas, TX @ Granada Theater
Sep-4 TBA
Sep-5 Orlando, FL @ Conduit