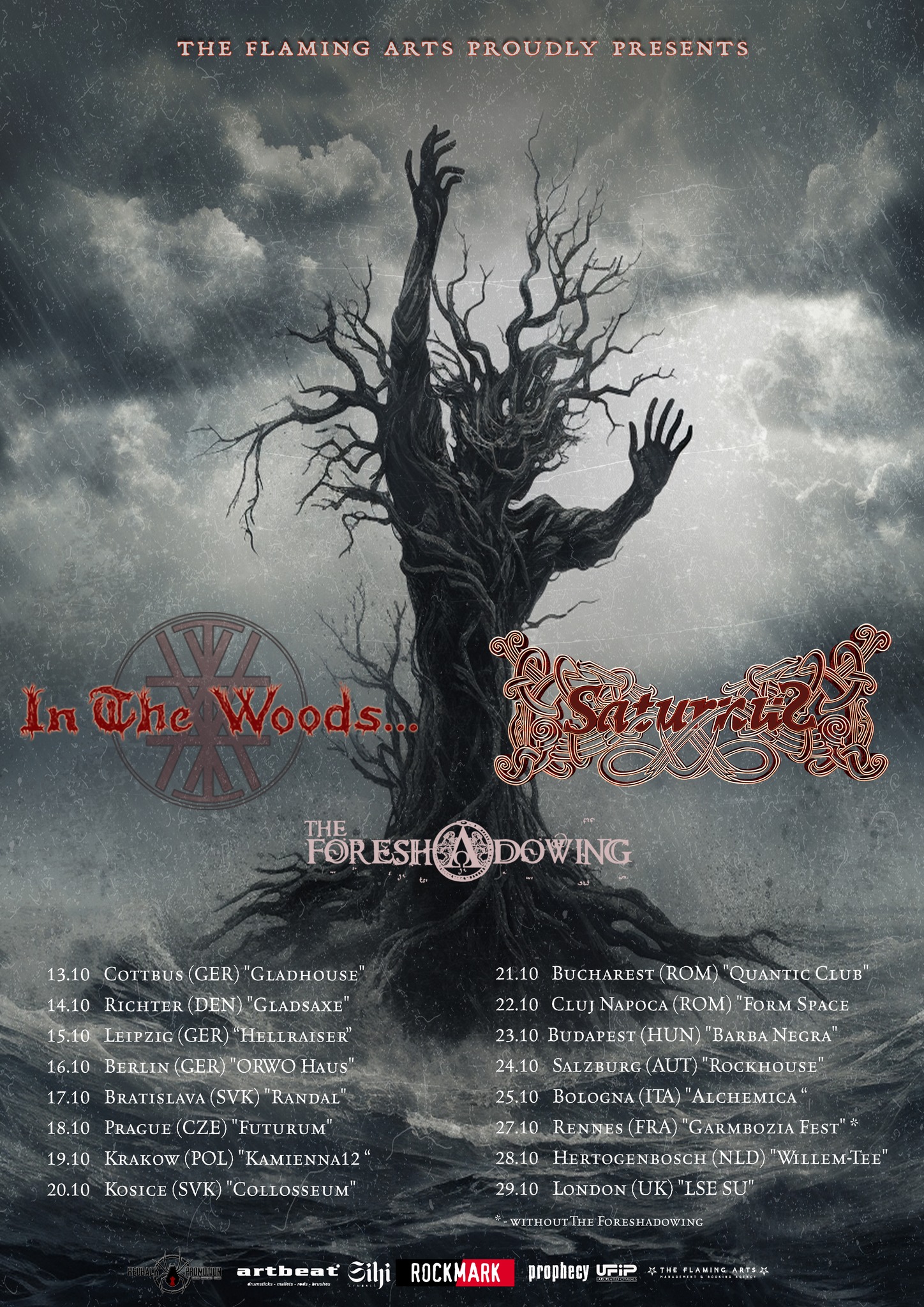 The most exquisite lineup has been summoned for a hell of a tour: In the Woods… , Saturnus , and THE FORESHADOWING are hitting the road this October.
After several lineup changes, Saturnus is now stronger and more united than ever, setting the stage for a step further. A new deal with Prophecy Productions has made tangible the release of the "The Lighthouse Session" EP (Prophecy Productions 2022), the subsequent "Before The Storm 2022" European Tour, and the long-awaited new album "The Storm Within" released in June 2023. Depicted as the perfect gathering of melancholic harmonies with epic passages and tones that demolish souls, Saturnus solidly asks you all to be ready for the autumn tour.
Continuing with their very own mixture of avant-garde, progressive black rock/metal, IN THE WOODS… manages to deliver another epic masterpiece, following untrodden paths and pagan tongue. With the band's new label Soulseller Records and new vocalist Bernt Fjellestad, the sails are set out to reach new heights. IN THE WOODS… embarked on this journey a long time ago and is, with "Diversum," once again true to their spirit, embracing change, difference, and diversity. The result is all that IN THE WOODS… has been and what the band will be, captured in an absolutely unique album that cannot be missed at live shows.
Founded in 2005, Italy's THE FORESHADOWING gained popularity in the international gothic doom scene with four acclaimed albums released between 2007 and 2016. During this time, the band toured all over the world and performed at some of the big festivals such as Summer Breeze, Rock Harz, Wave Gotik Treffen, Stoner Hand of Doom, Legacy, Mayday Rock Festival, and Summer Darkness alongside Lacuna Coil, Moonspell, Katatonia, Saturnus, October Tide, Tiamat, My Dying Bride, and many others. After six years of silence, they return with a new EP entitled "Forsaken Songs," collecting new unreleased material and special tracks from the past.
DATES
13.10 Cottbus (GER) "Gladhouse"
14.10 Richter (DEN) "Gladsaxe"
15.10 Leipzig (GER) "Hellraiser"
16.10 Berlin (GER) "ORWO Haus"
17.10 Bratislava (SVK) "Randal"
18.10 Prague (CZE) "Futurum"
19.10 Krakow (POL) "Kamienna12″
20.10 Kosice (SVK) "Collosseum"
21.10 Bucharest (ROM) "Quantic Club"
22.10 Cluj Napoca (ROM) "Form Space
23.10 Budapest (HUN) "Barba Negra"
24.10 Salzburg (AUT) "Rockhouse"
25.10 Bologna (ITA) "Alchemica!"
27.10 Rennes (FRA) "Garmonbozia Anniversary Fest"
28.10 Hertogenbosch (NLD) "Willem-Tee"
29.10 London (UK) "LSE SU"